Video
Trending
RAPPER TI CONTROLLING BEHAVIOR IS REVEALED ON RED TABLE TALK
TI Has Made a Fool of Himself on Jada Pinkette Smith's New Facebook Show
My biggest issue with Red Table Talk made me mad sorry I felt Tiny was overwhelmed with T.I.'s controlling behavior. As the first lady of a rapper like T.I. she has been through it the Family Hustle television show has been on for years even though the break-up.
The show was hard to watch Jada seemed to look TI directly in the eye and it was disrespectful because Tiny was still overlooked even in a setting where the women were in control Jada never silenced TI when he bo guarded each time Tiny tried to voice her feelings.
Floyd and TI even fought publicly it was mayhem! Also, TI has always been the "Playa" type and with his daughter's hymen ordeal things are getting worse he put his foot in his mouth and he is afraid of losing tiny. There are many rumors going around about the rapper's behavior he did not act married when on tour around fans when Tiny is not around she then started to tour with him because she loves him. He is a man with the mind of man in the 1920's!
The truth is men of the music industry have women served to them on a platter they can sleep with many women on the road and see it as the normal thing to do even Will Smith has a chick on the side allegedly so it's also said that Marc Anthony and Jada were in love and August Alsina was too close to Jada and they are no longer as close because of Will Smith allegedly so if this is true then Jada understands what it's like to have a good looking man who happens to be an entertainer Will Smith has always turned heads even at this skinniest back in the Fresh Prince day's he has been a rapper now he's known as an actor with many movies under his belt and most were successful as well as his wife Jada Pinkette Smith she has been acting since the Cosby shows spin-off when Lisa Huxtable went to Hillman which was a TV show adaptation of Spell man College in Atlanta.
The side pieces T.i. even got on social media and radio stations making coins off of T.I.'s and Tiny's on the rocks relationship but when Floyd and Tiny were seen together T.I. was unhinged by the thought Tiny would step out on him when he has dragged her through a lot of infidelities the rapper comes off arrogant and oblivious to his why Hasn't Jim Jones Married Chrissy Lamp kin after a Decade of being his Fiancee?
Tiny treat to speak but TI's narcissistic ticks came out to play and he drowned her out Jada was also quiet but when she did speak she was not seeing how it appeared to the audience most felt Jada did not stand up for Tiny and maybe Jada was neutral to some but some felt Tiny was still not heard because the host did not demand that he listen remember Jada is not Iyanla.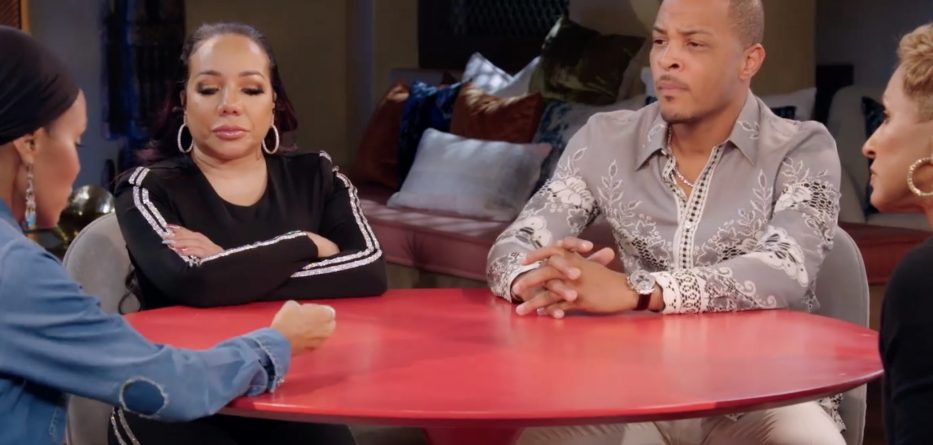 Red Table Talk Show received a Grammy so hey Jada is doing a great job but the thing that I would recommend is let's see regular people, not just movie stars and entertainers, and sports figures. The Family Hustle and Friends are still Popping but it makes you wonder? in the song TI wrote called "You can have whatever you like is truly TI and his ways of speaking well it sounds good but he appears to not understand a whole lot about love if Tiny did sleep with Floyd who cares but she didn't TI is that Sugar daddy and he is also a fool for believing he could do what he did to Tiny and not be given the side-eye.
Back to top button