Katies Holmes actress mother and women in the shadows or women who has her own actually didn't want to make it public and maybe it;s because of her last marriage to Tom Cruise he was her first and last marriage we are aware of but what makes this story so interesting is that after months of news sites stalking the couple maybe it was the right time to make it official.
A supposed insider tells the magazine, "Katie told close family and friends she's three months pregnant, hence why they decided to go public with their relationship at the Met Gala to celebrate and show the world they're in love."
The alleged tipster continues, "Katie was beaming and had a pregnancy glow – telling pals afterwards how she was bursting to tell everyone." The seemingly phony source adds, "Katie's always dreamed of giving [her daughter] Suri a sibling so to The two stars didn't walk the red carpet together at the Met Gala, but they did pose for photos inside the venue. Although they're no longer trying to hide their romance, the idea they went out of their way to "show the world they're in love" isn't accurate.
Jamie Foxx and Katie did not speak about their love life and unlike Ayesha Curry it seems that Katie Holmes is a self confident women with her own career and is famous in her own right not that it's a bash on Mrs. Curry but maybe she could learn something from Jaime and Katie and its this keep your relationship private sure its fine to speak here and  there but unless you want the public in your business like it was for Katie in the past this is why we believe she wanted to keep it private and also Jaime Foxx who has had a successful singing acting and he now dj's as well so when Jaime is not acting  he has been seen with Holmes so many times it was hard to lie about  we guess up till now.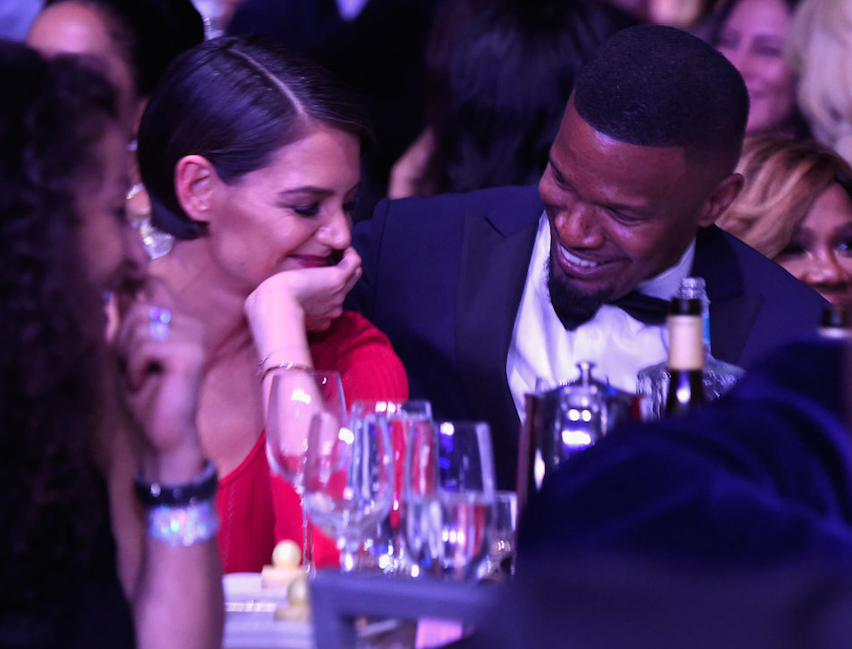 According to Gossip Cop, the real reason why Katie and Jaime have announced they are together but allegedly because , Katie  is pregnant. Of course it may be just a rumor but why cant it be they love each other and not all people want their personal life in the tabloids, unless they are doing a movie together why would it be required being Jaime and Katie are super famous maybe they opted out for the regular love without the staged paparazzi videos which i respect, Jaime and Katie make a cute pair.
Do you Blame Katie and Jaime for hiding they were together ?